Are you a business owner?
Do you feel like your business is stuck and there is an invisible barrier you just can't break through?
You spend all your time working IN the business on the day to day issues.
And never have enough time to work ON the business and install the things that will make it grow.
You just go round and round, producing the same results.
BUT how do you break the cycle?
Especially when you are stuck in the business.
Being a business owner can be a frustrating and often lonely journey.
Not a lot of people really understand what you are going through.
Or what you are risking.
BUT There is an easy solution…
Don't do it alone!
Get help from someone that knows what to do.
From someone who has helped countless people in your position break the cycle.
Someone who gets it!
I know it can be hard to ask for help.
Sometimes we can be proud and feel if we get help that we have failed.
BUT doing it alone just isn't working.
Think of it this way…
The best athletes in the world have coaches.
People that are a step back and can look at what you are doing from a different perspective.
People that have done it before.
So why shouldn't you have a coach?
Someone that shows you the way.
That holds you accountable
And that works on your weaknesses and builds on your strengths.
Our solution is simple…
A program that has 3 pillars of success.
1 – An onsite Boardroom day every month where you and your team come with other business owners and work ON your business, sharing experience and knowledge and tapping into expert consultants
2 – An online Webinar every month for you to work ON your business and ask an expert consultant questions
3 – An online learning course that walks you through our proven method for success. Following steps with videos and workbooks to start transforming your business
Can you see how the theme is to spend time working ON your business?
That is what you NEED to do.
That is the secret!
If you need help implementing solutions…
…Or you want to get results faster…
Get an onsite consultant every month to jump-start your growth and walk you through what you need to do.
The time to do it alone is over.
The time to get the same results is over.
The time to make your business everything you dreamed is NOW.
Talk to us about your business and we can tell you how you can thrive.
Take the step and make the change.
What are you waiting for?
Click the button below!
The solution to your problems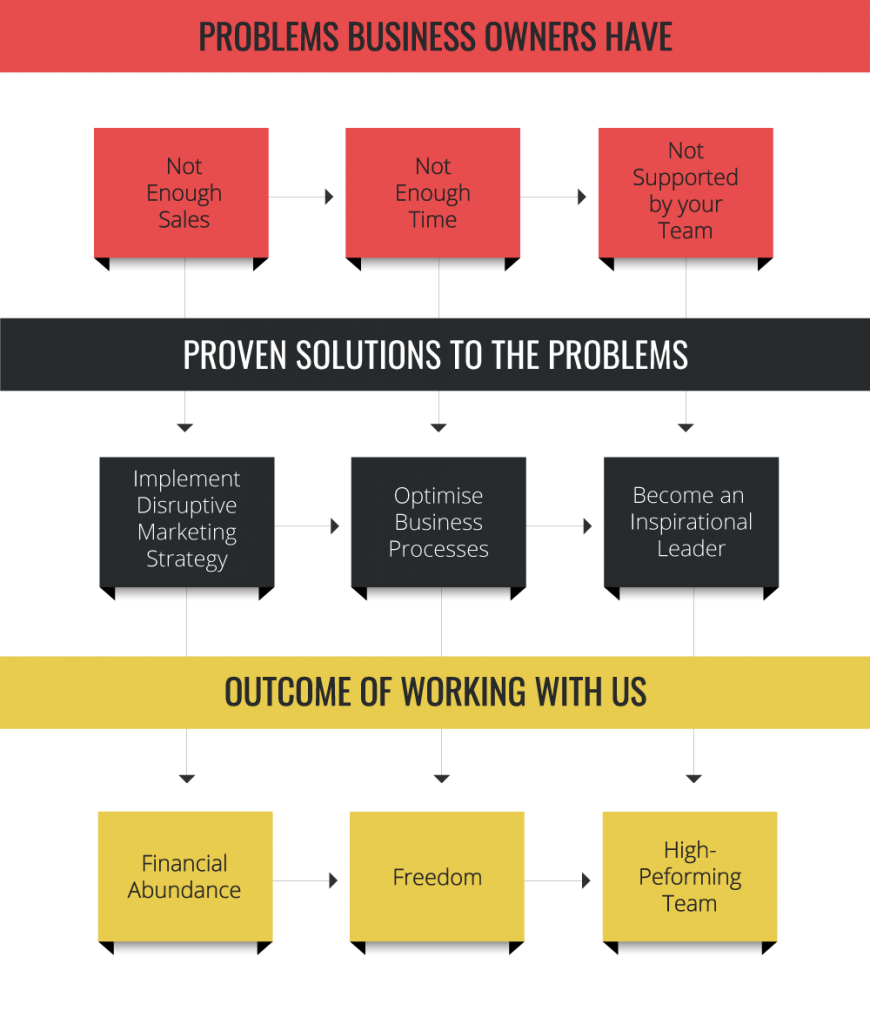 How we help you achieve your goals
Choose the best package for your business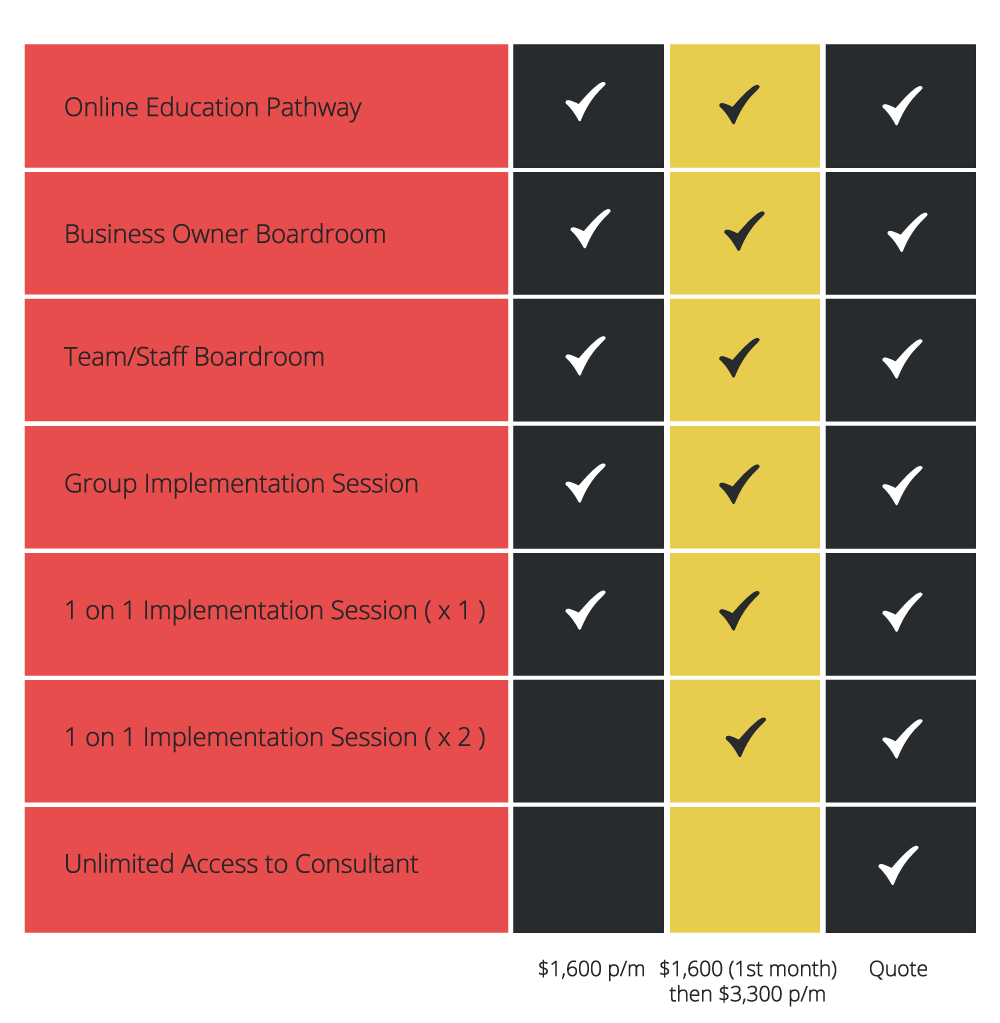 You will commit to 100% effort and accountability (i.e. you will turn up to all meetings on time, fully prepared having completed the scheduled actions and commitments previously made).
You understand changing an entire business takes time, so we believe you must celebrate and recognise small successes along the way.
You may at any point terminate our arrangement or not pay an invoice if you are at all unhappy. Our commitment to you is for the long term.  Providing you meet your commitments, if you are not achieving the expected results in the short term, we commit to working with you, at our expense if necessary, to ensure the achievement of your goals.
You understand that we commit to ensuring that we remove the need for us as soon as results are being consistently, achieved, and no other higher goals have been set.
We believe that if we help enough business owners become extraordinary, they can't help but create extraordinary team members.
If team members become extraordinary, they can't help but go home and be extraordinary there as well.